Let us take you on a road trip, destination… CANADA!
Avenue2Canada is a fully licensed immigration consultancy firm, located in downtown Calgary, AB. Canada.
Our focus revolves around personalized client services. Through our expertise, patience, and compassion we provide special attention to each client and work closely with them to create a personal strategy to meet their needs and goals.
During the consultation meeting(s), we are able to assess and in-turn provide the appropriate recommendations regarding the immigration services required.
We treat each client as a unique case due to their specific circumstances and situation.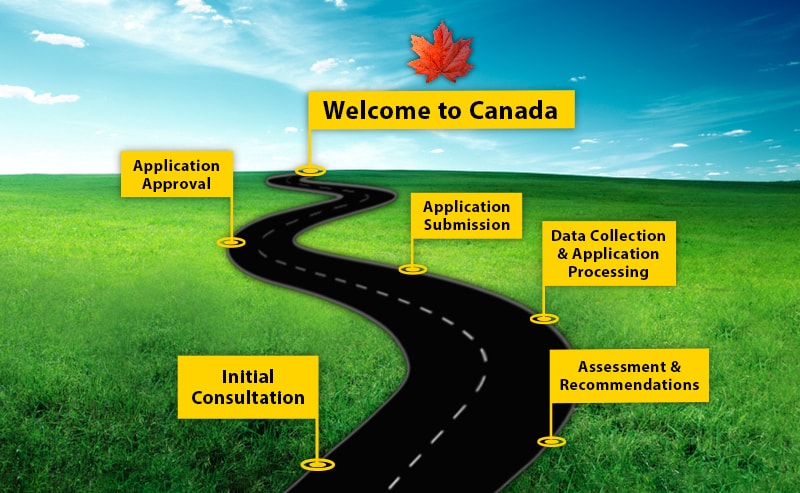 There are several other options for individuals who are interested in making Canada their permanent home out side the Express Entry.
If you would like further assistance, please contact us.
Click the different programs below to learn more.
Express Entry
Through the Express Entry process, the Government has the ability to control the intake of applications, which in turn allows for faster processing of the applications. Potential candidate must be qualified under one of the economic categories such as the Federal Skilled Worker Class, Federal Skilled Trades Class, the Canadian Experience Class and some of the Provincial Nominee Program. Let us help you to calculate your CRS points and determine your chances of getting an invitation to apply for permanent resident.
Business/Investor Program
If you are an entrepreneur looking to make an investment in Canada or start a new business, there may be several avenues for you to choose from. For further assistance please contact us.
Family Class
This category includes spouses; common-law partners or conjugal partners and allows you to apply in Canada or from outside Canada. This also includes dependent children, parents, and grandparents. To find out more about becoming a sponsor, we invite you to contact us.
Provincial Nominee Program
The Provincial Nominee Program provides a quicker entry into Canada for qualified workers and experienced business professionals who wish to settle as Permanent residents in a particular province.
The PNP provides the provinces with the benefits of targeted recruiting and the selection of foreign nationals who can help meet the labor market and the economic needs of each province, such as filling a skill shortage or attracting specialized occupational skills. The PNP may include the selection of semi-or low skilled professions.  Call today to check which province might be the best based on your qualifications!
British Columbia PNP… Read more
Alberta AINP… Read more
Saskatchewan PNP… Read more
Manitoba PNP… Read more
Nova Scotia PNP… Read more
New Brunswick PNP… Read more
Caregiver Program
Do you provide care for children or do you care for people with high medical needs, you might be qualified to apply under the caregiver program and become a Permanent Resident of Canada.
Call now to check your eligibility!
Refugee
Millions of people around the world leave their homes each year, driven by war, political or religious oppression, natural disaster, environmental destruction, and poverty. Are they all refugees? Would they all receive Canada's protection? Call today to see whether you are meeting the definition of a conventional refugee or protected person!
Every year, thousands of temporary immigrants visit, study or work in Canada, which is important to Canada's economic growth and Canada's prosperity.
Work Permit
There are several types of work permits. Let us find out whether you need or you are exempt from obtaining a work permit to be able to work in Canada. We do not act nor qualify to be a recruiter with regards to finding the right employer or employment.  However, we can help you with aspects related to the immigration process. If you are working for an international corporation and thinking of moving to their branch in Canada, let us explain the process and guide you to how to move as an intra-company-transferee.
Visitor Visa
Do you want to discover the beauty of the Canadian Rockies and the amazing nature of Canada? Let us help you go on your dream vacation. Do you want to come and visit your family members? Do you require a visa to enter Canada? or are you coming from visa exempt countries? These are all questions we can assist you with. If you would like to extend your stay or change your status within Canada, let us help you with that too.
Study Permit
Pursuing your future career in Canada through the best education in one of the Canadian universities, colleges or trades schools is a great and exciting move. Let's us help you to achieve it! Find out if you need a study permit to study in Canada. Are you facing some sudden difficulties paying your fees? D you have any particular questions to your educational situation? Do you want to find out your options as a post graduate in Canada? Please contact us.
Labour Market Impact Assessment
As an employer, you may need to obtain a Labour Market Impact Assessment (LMIA) from Employment and Social Development Canada (ESDC) to demonstrate that there are no Canadians or permanent residents that qualify to fill a posted position. Our team will work with you to find the right employee or to fill in the current labour shortage by finding the foreign worker that fits your criteria. We will complete the LMIA application to ESDC and prepare the remaining documents to IRCC in order to have your temporary worker ready to work for you as soon as possible.
There are also many LMIA-exempt categories including the International Experience Canada (IEC), International Agreements (NAFTA), or those who can demonstrate a Significant Benefit to Canada.
Contact us to help you navigate your situation and help you work in Canada.
There are many situations where foreign nationals or permanent residents are not automatically granted the Canadian citizen. Call today to find out how to become a Canadian citizen and understand the eligibility requirements that you have to meet to acquire your Canadian citizenship.
Applying for Citizenship
Congratulations!!! if you are a permanent resident and have lived in Canada for certain set time, you may be qualified to apply for Canadian citizenship. Allow us to help you submit an accurate application for the Canadian citizenship to prevent any delays. In the case of revocation, let us explain to you what is your status and discuss your options.
Restoring Citizenship
If your Canadian citizenship was revoked or you have renounced your citizenship, you might be qualified to gain it back. Let us explain and help you regain your Canadian citizenship.
Post-Arrival and Settlement
There are so many different settlement organizations and services for newcomers to Canada. These services will help them adjust and settle into their new lives in Canada.  These services are often free and are provided by multilingual staff.
Reviewing your Application
If you have a self completed application, our team can help you review it, to make sure that it is accurate, complete and complies with the current regulations and new policies.
Settling
Let us introduce you to our friendly and experienced settlement professional that can help you feel at home, offer you a variety of workshops and that can help you get settled better and faster in Canada.